From palaces to Picasso, Spain has character to spare—and the lodgings to prove it. Rather than staying in a traditional hotel, explore the range of the country's culture and history with a different kind of stay. Whether you opt for an eco-friendly treehouse, island dome, palatial visit within the walls of the Alhambra, or a cutting-edge glass art stay, these lodgings will add an extra element to your trip.
Keep watch in a lighthouse: O Semaforo 
If you want to run all the way to the end of the world, try the coast of Finisterre. The lighthouse here was built in 1853, and its beam shines 40 miles (65 km) out over the treacherous seas that gave the area the nickname of the "Cape of Death."
That lighthouse is still fully functional and also serves as the O Semaforo hotel. Tuck up under the eaves as you listen to the waves crash outside and watch the beam of the lighthouse that has saved ships from crashing on the rocky cliff. Guests still need to eat even at the end of the world, and the in-house restaurant offers a tasting menu that varies by season. A cafe offers more casual dining before visitors set out to explore the area's old churches and beaches. Or simply gaze out to sea from the indoor lounge or one of the outdoor infinity terraces.
Region: Cape Finisterre
Nearby cities: Santiago de Compostela
Nearby attractions: Ezaro waterfall, Boca do Rio beach
Closest major airport: Santiago de Compostela Airport (43 miles/70 km)
Connect with your natural surroundings: Eco Dome Experience
Travelers are primarily drawn to the Canary Islands for their natural beauty, taking in beaches, mountains, and even the odd volcano. And what better way to get into nature than in a sustainable eco-dome?
It's important for any trip to be well-rounded, as you'll get with a stay in the Eco Dome Experience on the island of Lanzarote. Each dome functions as a unit in itself, with a small kitchen, seating area, and private bathroom. But more important is your ability to easily integrate into your surroundings and scope out the views to both coasts of the island. Connect with the natural world on your outdoor patio or on the property's garden. There's also fishing and hiking nearby, along with windsurfing and diving. The dome itself is part of a larger farm, with tropical plants and even the occasional chicken scampering by.
Want to give it a try? Combine a stay with this itinerary. 
Region: Canary Islands (Lanzarote)
Nearby city: Teguise
Nearby attractions: Timanfaya Park, Cueva de los Verdes
Closest major airport: Lanzarote (9 miles/15 km)
Sip amid architectural vines: Hotel Marqués de Riscal
You'll get a sense of how distinctive the Hotel Marqués de Riscal is even before you set foot inside—all it takes is one glimpse of the dramatic Frank Gehry structure to know you're in for something special. Perched amid an estate's worth of vineyards within the "City of Wine" complex, the hotel describes itself as a "21st-century chateau" for the Vinos de los Herederos de Marqués de Riscal winery, one of the oldest wineries in the Rioja region. Gehry's trademark design elements can be spotted throughout the property in touches like its tilted walls, high ceilings, and zigzag windows.
The style isn't lacking substance to back it up. The Restaurante Marqués de Riscal restaurant boasts a Michelin star for its regional cuisine, and the more casual 1860 Tradición offers a la carte options amid dramatic views of both the hotel structure and surrounding countryside. Sample the estate's wines at the hotel bar, then experience some of their other uses with vinotherapy treatments like the barrel bath or pomace soak at Vinothérapie Spa Caudalie Marqués de Riscal.
Want to give it a try? Combine a stay with this itinerary. 
Region: Rioja Valley
Nearby cities: Logroño, Vitoria-Gasteiz
Nearby attractions: Vivanco Museum, Laguardia, Santiago Pilgrimage route
Closest major airports: Agoncillo (28 miles/45 km), Vitoria (42 miles/68 km)
Sleep sky high in a treehouse: Cabanes els Arbres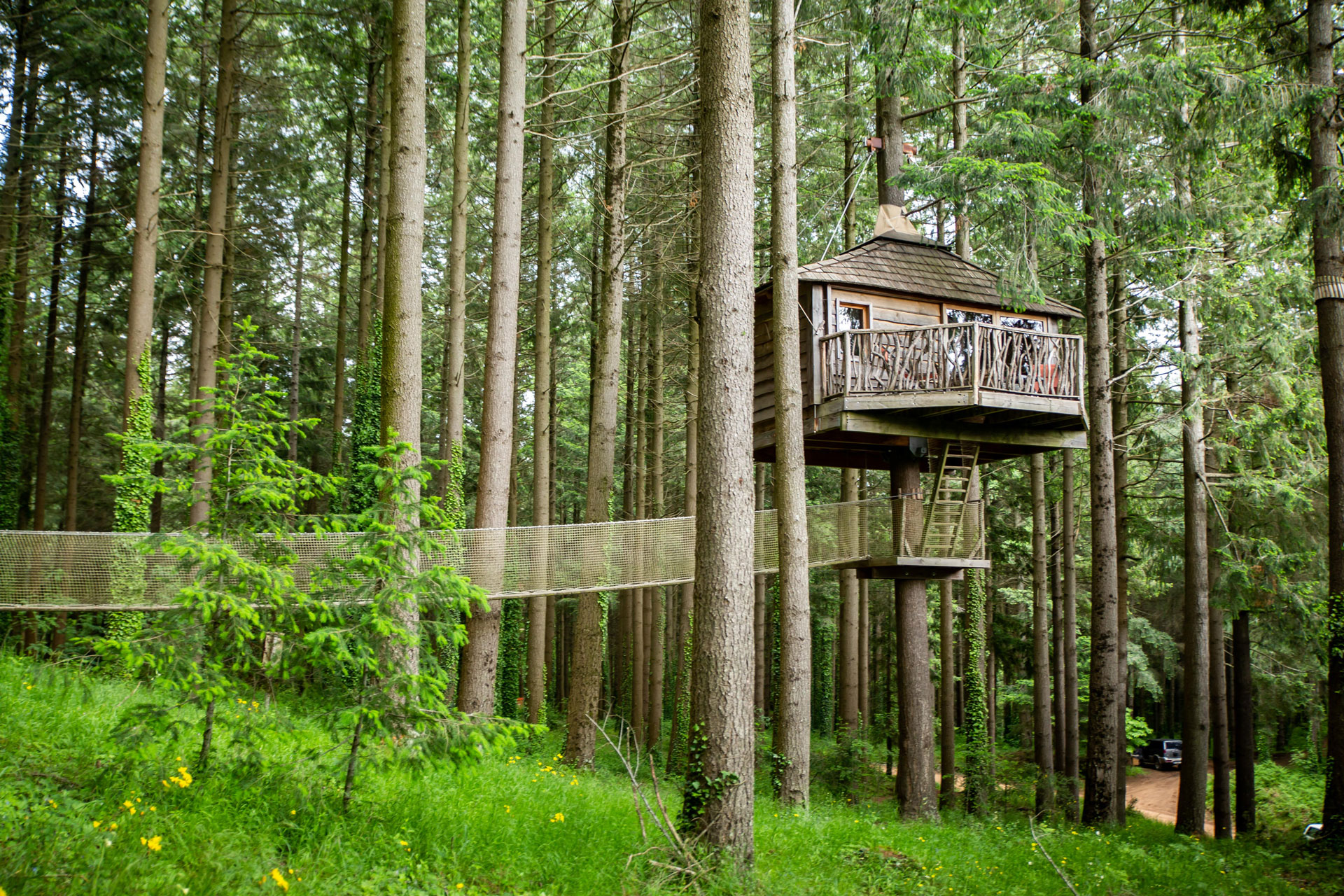 Though Spain isn't known for its forests, the Sant Hilari Sacalm forest in the mountains of Catalonia offers a respite from the country's city scene. And what better way to venture into the trees than with a childhood favorite—the magic treehouse?
Wander through the woods and integrate yourself into the forest at the Cabanes els Arbres treehouses. Each treehouse has its own water basin, ecological dry toilet, and rechargeable lamps and fireplace. All aspects of the property are designed to be as sustainable as possible, from the well water to the wood of the cabins. There's also a manor house nearby with outdoor spas and a swimming pool for when you're ready to come back to earth.
Want to give it a try? Combine a stay with this itinerary.
Region: Catalonia
Nearby cities: Girona, Barcelona
Nearby attractions: Costa Brava beaches, Dalí Theatre-Museum
Closest major airports: Girona-Costa Brava (27 miles/44 km), Barcelona-El Prat (73 miles/118 km)
Stay amid history within the Alhambra: Parador de Granada
The Spanish Parador system dates back to 1910, when the Spanish government appointed the Marquis de la Vega Inclan to design a national hotel infrastructure to house travelers and improve the Spanish image. The first Parador opened in the Gredos mountains in 1928, and the system has been going strong since, with stays ranging from contemporary hotels to country houses to palaces to convents, many of which had been in disrepair and were restored to their former glory to become part of the system and preserve Spain's cultural heritage.
One of Spain's most powerful cultural symbols is Granda's Alhambra palace, and you can stay right within its walls thanks to the Paradores. The Parador de Granada is within the lush gardens and bubbling fountains of the Alhambra complex in a former monastery. The monastery was built on the site of a Nasrid palace, and you can still find the remains of the palace in one of the rooms. Stroll amid the orange trees of the courtyard and the intricately carved walls and gates and you'll feel like you're living in the palace itself.
Want to give it a try? Combine a stay with this itinerary. 
Region: Andalusia
Nearby city: Granada
Nearby attractions: Alhambra & Generalife Gardens, La Alcaicería Market
Closest major airport: Granada (17 miles/27 km)
Keep it transparent in a modern glass cube: Les Cols Povellons
Balance history with modernity in the countryside outside the city of Girona. While the fairytale city is mainly known for its extensive city walls and old Jewish quarter, it's also the home of the modern El Celler de Can Roca restaurant, known for fusing traditional Catalan cuisine with molecular gastronomy and surreal, creative presentation.
That same spirit infuses the glass buildings of Les Cols Povellons, where the sharp blue-green glass buildings cut through the country landscape. Guests can recline in their private heated soaking tub, then picnic or dine at the onsite, two-Michelin-star restaurant. Once you retire, your room is an entirely glass cube with only a sleeping pad and blinds.
Want to give it a try? Combine a stay with this itinerary. 
Region: Catalonia
Nearby cities: Figueres, Girona, Barcelona
Nearby attraction: Zona Volcànica de la Garrotxa Natural Park
Closest major airport: Girona-Costa Brava (39 miles/62 km), Barcelona-El Prat (78 miles/125 km)
Planning a trip to Spain?
Find more advice about how to make the most of your time here. 
Or, describe your ideal trip and we will connect you with a local specialist to make it happen.